From: SwordDruid@aol.com (Jim Lindsey)
Date: Sun, 3 Mar 1996 02:15:31 -0500
To: quasar@b0b.com (Bobby Lee)
Subject: Pedal Steel Guitar
Hello…My name is Jim Lindsey and I would like to say that I thoroughly enjoy these pedal steel guitar pages. It's great fun also to check out all the different tunings and guitar setups which various players use. So, likewise, I would like to share with you a little about my steel setup and musical endeavors.
I started playing steel in March of 1976 and currently play with Ty Herndon. I have two steels at the present time: A 1976 Emmons push-pull D-10 with 8&5 and a 1985 Mullen D-10 with 8&7. I normally use two amps…a Peavey Session 500 and a Peavey Nashville 400. I run the Session 500 with dry signal and saturate the Nashville using for reverb a Yamaha R-1000 Digital Reverb and a Ross DDL1000 Time Machine for delay. My tuner is a Korge DT-1 Pro.
The copedent shown is from a 1990 Mullen D-10 with 8&9 which, sadly, I recently parted with. Aside from the angelic beauty of the instrument, one of its most appealing characteristics, I believe, is the camaraderie displayed by steel guitarists world-wide.
---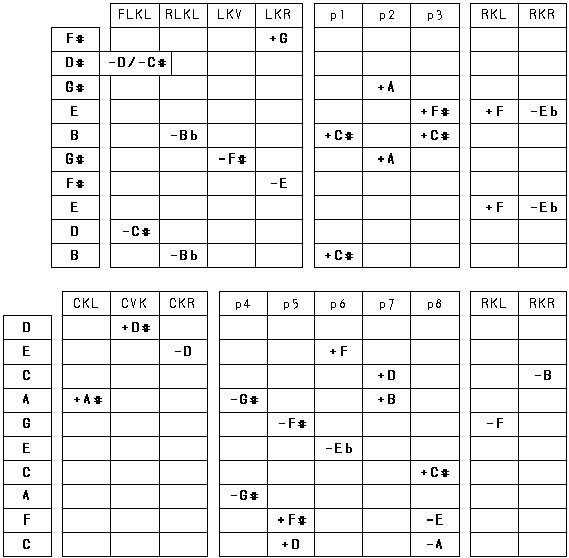 Again, I would like to express my compliments to Bobby Lee for putting this all together. And, my best regards to all steel guitarists everywhere.
Sincerely,
Jim Lindsey
Copyright ©1996 by Jim Lindsey