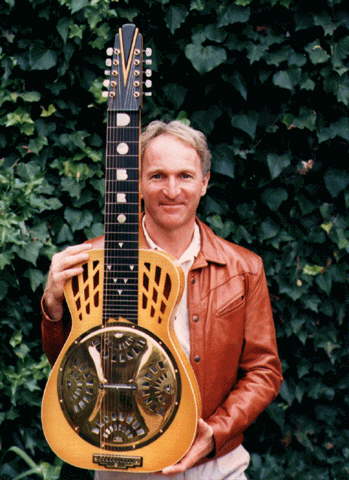 Date: Tue, 11 Jul 1995
From: pete@sna.com (Pete Grant)
Subject: The Zephyr
Hi Bob,
It was good to meet you at the Steel Show. I hope Tom has more of them. Here's a picture of me and the Zephyr in 1987 shortly after we finished it.
The tuning - from low to high - is:

Notes:      D     A     D     E     F#    A     D     F#    C#    E
ScaleStep:  1     5     1     2     3     5     1     3     7     2
Gauges:   .070  .045  .032  .028  .024w .022  .014  .0115 .017  .013 
Somewhere in my archives I have an as yet unpublished article I wrote on the creation of the Zephyr. I'll send it along and/or we could link it to my home page when I get that up and running.
Best regards,
Pete

Editor's Note: Pete later supplied this additional information:
The Zephyr Dobro was designed by Don Young, MacGregor Gaines and Pete Grant in 1987. The photo of Pete with the 10 string Zephyr was taken by singer/songwriter David Anderson, also in 1987.
The 10 string Zephyr was the prototype for the top of the line. Fewer than thirty Zephyrs were produced. None but the prototype was a 10-string. Most were 6-strings and a couple were 8-strings. Rick Turner has the first production model.
Pete Grant's home page is at www.petegrant.com.
Copyright ©1995 by Pete Grant