The 1995 West Coast Steel Guitar Show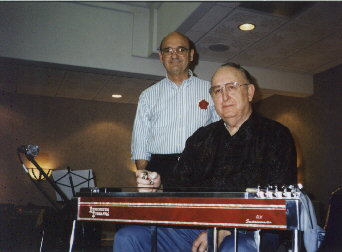 Tom Bradshaw with Herb Remington
On June 17th and 18th, Tom Bradshaw hosted the second annual West Coast Steel Guitar Show at the Sheridan Hotel in Concord, California. Attendence was light (about 500 people), but most of us had a great time listening to top notch players and talking shop with a wide variety of steel guitar vendors.
I'm neither a journalist nor a photographer, but I did snap a roll of film at the show. I've created some web pages to go with those pictures. My apologies to those vendors and performers I missed. I suspect that Russ Rask will cover the show in more detail in Steel Guitar World magazine.
Each page in this section has a link to the Next Page in the sequence. You can get a list of all of the photos by clicking the Table of Contents link on any of the photo pages. Enjoy.
---
> Return to The Pedal Steel Pages

Copyright ©1995 by Bob Lee, quasar@b0b.com.