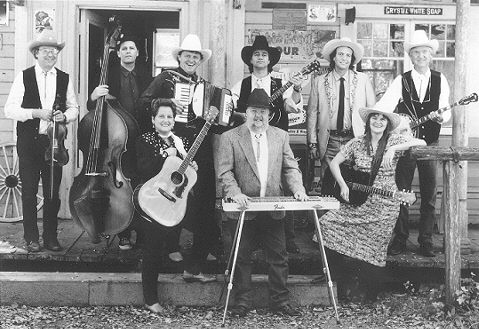 The Country All-Stars is a 10-piece authentic country and western band that performs the music of Hank Williams, Patsy Cline, Bob Wills, the Carter Family, Jimmie Rodgers, George Jones, Merle Haggard, Buck Owens and many more of the greats of country music.
Comprised of the finest country musicians and singers in the San Franciso Bay Area, the Country All-Stars perform a fun and entertaining show, which has been enthusiastically received by audiences at fairs, festivals and concerts throughout California. In particular, their "Songs of the Grand Ole Opry" show has received rave reviews.
The instrumentation of this group includes: piano, guitars, upright bass and drums, as well as pedal steel guitar, fiddle, accordian, rub board, banjo and more. The six singers in the band provide strong lead vocals and clean, sweet harmonies.
A show-stopper wherever they perform, The Country All-Stars would love to entertain you!!!
---